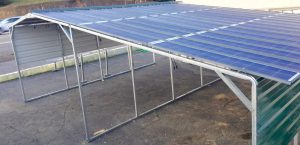 Want solar but not excited about putting it on your roof? Now you have an option.
SunnyCal Solar is now selling  solar carports for residential locations.  Now available as a kit or fully installed, carports are built-to-your spec(width, length and height).
These cleverly designed carports mimic traditional rooflines, and include the

SunnyCal  Steel Roof Solar.  The metal roof sheets have the solar cells built right on to the metal surface.  These solar roof sheets perform identically to normal solar panels.
Solar carports offer a variety of options such as: grid feedback, battery backup, and  off grid EV charging.