LED Solar Street light
SunnyCal "Sun Light" is the perfect street or yard light.  It operates completely on solar power, and features modern motion-sensing dimming and auto turn-on features.
The Sun Light is a complete solution; it includes the LED light, solar module, lithium battery and mounting hardware for pole or wall mount. The light is fully water proof, with an IP67 rating.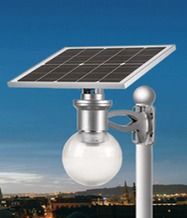 This is a fully functional solution, with sufficient battery life to maintain performance through multiple rainy days of dim sunlight. This is a bright light!