Sunnycal Offers a Variety of Prefabricated Structures
Folding solar supports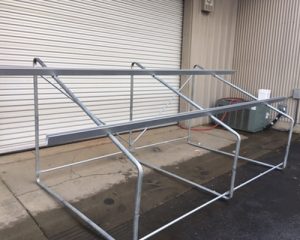 Need rapid deployment of a solar array. The FEMA-1 structure can be unfolded  and standing in-place in minutes. Each structure hold four 60 cell modules. Unit can be flush-mounted to an existing structure or can use ground screws to secure against uplift and theft.
Solar modules are attached using standard ProSolar mid and end clamps.
A variety of optional configurations are available with the folding array.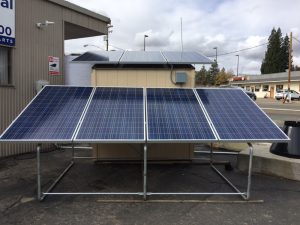 Array Support with Four Solar Modules 
Array Support, Modules, and Battery Free Inverter
Ground Mount Supports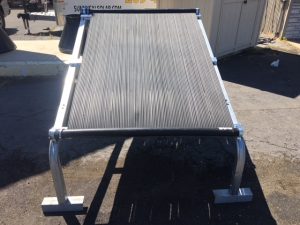 Ground mount supports are available for solar electric or solar thermal  modules.  These modules are fabricated from 14 gauge corrosion resistant galvanized square tube, bent to achieve the ideal angle and height.
Legs are placed on 10 foot intervals, and cross-connected by steel ribs.  T-footings are inserted in the legs, and secured by set screws at user-selected heights to enable placement on uneven terrain.
Solar modules can be screwed directly to the steel ribs. (Image shows solar thermal module attached)