PowerHub
The SunnyCal PowerHub is an all-in-one energy storage system. Designed to support both grid-tied and battery back-up functions. Each PowerHub is a stand alone unit, that can be rolled into place. Then connected to facility power using standard NEMA plug connectors. Now you can "time shift" your solar energy to the time of day when you are using power.
PowerHub system features include:
Grid-tied solar plus battery backup
Adjust timing of solar back feed
Partial backup power for select electrical outlets or appliances
Battery backup power for entire building
Use of battery backup at select time of the use (TOU)
Battery power minimizes surge load on utility (Demand Reduction)
SunnyCal can install a PowerHub system that can work completely off-the-grid, In places where no utility power is available, so danger of losing power in the event of fire emergency or natural disaster is reduced.
Home  Energy Storage……… Industrial Strength Design
Models offer 120/240 Vac split phase with up to 75% phase imbalance, allowing direct connection to the home's multi-branch wiring. 240 Vac operation ensures well pumps will operate with battery backup.
Advanced lithium batteries and charge controllers create a 20 year battery life time. Batteries are safe for in-door operation.
Inverters have network and sync ports built in, then communicate seamlessly to synchronize invert and charge modes
Our Inverters are regulatory approved and CEC listed for both off-grid and grid-tied applications
4000W, 5500W and 6800W are approved for grid-tie use and also support off-grid installations.
The Dual AC inputs make it simple to use with generators and grid-tie utility applications.
Complete system solution using modular components
The system is comprised of manageable building blocks; An Inverter/Chargers, A Solar Charge Controller, A Power Distribution Panel, A Conduit box, An Automatic Generator Start module, and System Control Panel
System components can be networked, with remote internet control of utility connect and backfeed.
Inverter/Chargers, Solar Charge Controllers, Automatic Generator Start modules, and System Control Panels communicate with each other out of the box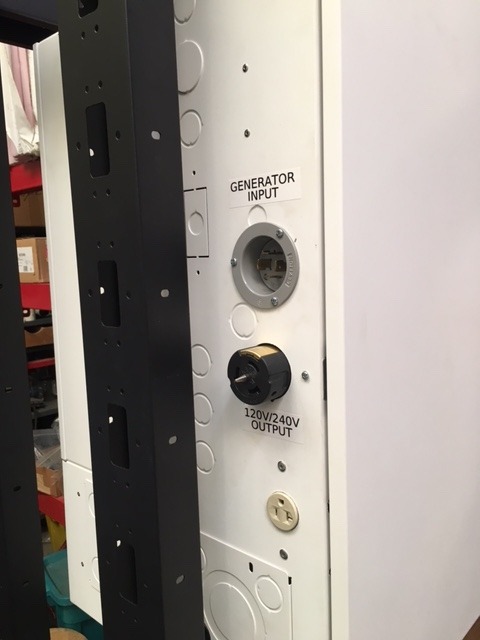 Now increasing utility charges for energy use during peak times (Time of Use) can now be eliminated by Active Energy Management. Install a PowerHub energy storage unit from Sunnycal Solar today.