Description
SunnyCal Solar's exclusive Simple Lithium Solar expandable weather resistant battery case enables lithium batteries to be sized to match today's budget, and expanded later by simple addition of new cells.  Case comes standard with three 2.5kWhr LiFePo battery capable to 50Ah at 48v.  Surge to 300A for 3 seconds.
The simple lithium battery cells  in this solution contain all the modern protections of lithium batteries, but behave like  simple and reliable lead acid batteries.  We have removed the sensitive shutdown and restart headaches commonly associated with lithium batteries.
Every battery has independent circuit breakers for protection and ease of service.  The main battery case functions a large breaker to protect the outgoing cables, and has built-in system voltmeter/ammeter.
Internal BMS protects against charging at extreme hot and cold temperatures,  ensuring long service life and maximum state of charge. Batteries are capable of 3000-6000 charge cycle in normal 80% discharge use.
Started with a single 2.5kWhr battery cell , and expanded by adding 2.5kW cells. All cables are included with the initial purchase.
Battery Enclosure IP-65 ABS case for weather resistance. Side tabs are included for simple wall attachment.  Recommended to floor mount, secured to wall.  Units can be stacked when properly secured.
Active cell charge management is built into each battery cell, ensuring long lifetime and protection against overcharging. The BMS will allow 300A of surge current for 4 seconds before initiating a shutdown.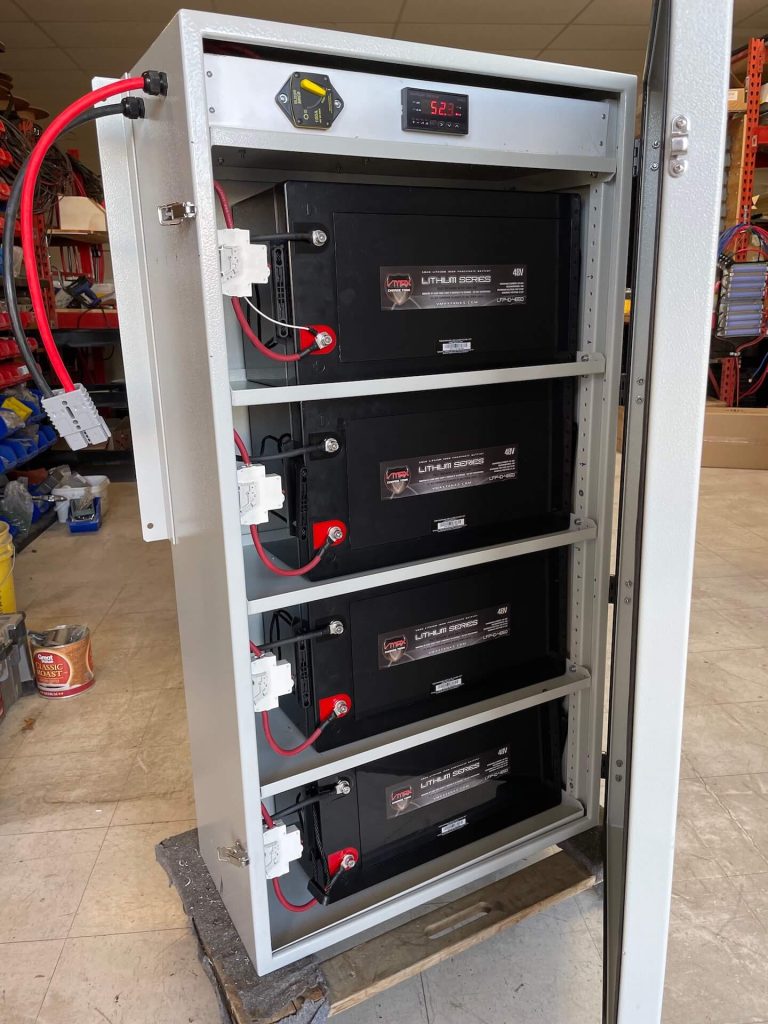 Dimensions are 50″ x 26″x 13″,  weight 320lbs.
Charge with constant current & constant voltage, no float or trickle charge.
To determine battery size requirements for your load check out   http://solarpowercalc.com
Ideal for  Solar Power Backup, UPS, application