Description
The Anytime Power System is a perfect solution for remote locations requiring light and power, where no utility power is available. It Includes long-lasting lithium battery, battery charger and 1500W power inverter, delivering power to standard GFCI power receptacles and USB receptacles.  Main unit is small and lightweight enough to be installed by one person.  All you add is a solar panel module.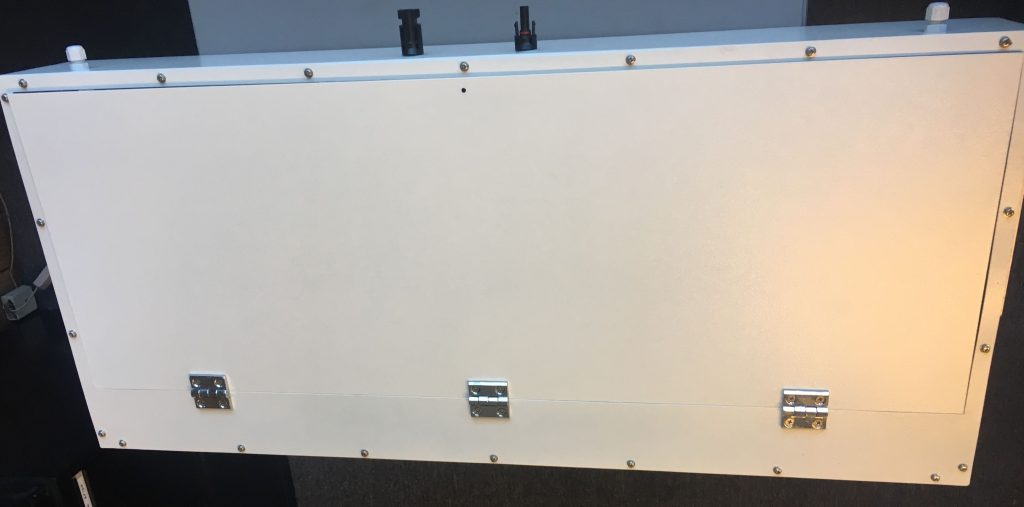 Unit can be directly mounted to rear of a standard 39 inch solar panel or secured directly to wall or ceiling.
Ideal locations for the Anytime Power System include horse barns, agricultural buildings, gazebo structures and RV carports.  AC power can operate LED lights, battery charges, medium sized power tools and animal shears.
Features
120v receptacles, USB outlets and terminal connections for AC power
A powerful  1.5kWhr lithium battery bank
Supports charging for tablets, laptops, cameras, and other electronic devices
Optional LED string  lighting system for nighttime use
True off-grid solar power design that delivers dependable year round charging power even in worst case weather conditions
Optimized system design includes complete solar charger, battery and power inverter and standard UL listed NEMA receptacles.
Low maintenance with a ten to twenty year expected service life.  One year warranty

DIMENSIONS
Weight: 60lbs
Case: 39" W x 16'0" L x 4″ thick
SOLAR SYSTEM
300W solar panel module capacity,  up to 150v (solar module ordered seperately)
Battery: 1.5kWhr sealed lithium
Inverter: 1500W power inverter
Charge controller: Lithium battery charge controller
Battery replacement cycle: ten years/3000 cycles (typical)
All electrical and structural steel components bonded to NEC compliant earth grounding electrode (ground rod required)
SYSTEM CAPACITY
Two 120V traditional electrical receptacles
Two USB charging ports
AC output terminal strip available to conduit wiring
Design autonomy: three days with little sunlight
Design depth of discharge: 80%
Daily energy production: 1600Whr per day
Design location: Jackson California
ENCLOSURE
Galvanized steel case
Mounting ears for screw attachment
INSTALLATION
Solar wires are routed from solar panel to Anytime Battery location
Anytime Battery is screwed to wall or overhead surface.
User devices can be plugged directly into the Anytime Battery outlets
If desired, conduit wiring can be connected to internal terminal strip.