Description
The Solar Generator is the perfect emergency power source for home applications. It functions like a gas generator, but is powered by solar instead of gas.   It creates 120V for powering standard household appliances during short-term utility outages(Nema TT-30).  Internal battery can be charged by optional solar panels.  Battery can also be charged using the  AC input with utility or generator power(Nema L1-30).
Normal AC power is passed through, switching to backup power automatically upon loss of utility power. Internal 48V lithium batteries are charged from either AC power or solar power.
Items included are:
Weather resistant lockable steel enclosure
Generator-style cable connectors for ease of use
5000W pure sinewave inverter + 80A solar charger
5kWhr lithium 48VDC battery bank, optional second  5kWhr battery
40A AC Battery Charger using external AC input
AC inlet for charger power and pass-through to load outlet
Wall Mount side Brackets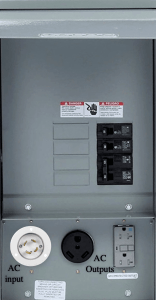 Pictures are representative, and actual appearance may vary.