Description
Wallbox Pulsar Plus
Start charging smarter. Wallbox Pulsar Plus offers the best of both small size and powerful Level-2 performance for faster electric vehicle charging at home. Pulsar Plus can charge any electric car on the market today up to 8x faster than the standard (120V) charging cables that come with most EVs.
The Pulsar Plus  comes with a NEMA 14-50 plug and is built to automaker standards to ensure the highest reliability. Includes: 25ft. Corded SAE J1772 charger plug and a Wall Mount SAE J1772 Connector Holster.  The holster is the perfect addition to any charging station installation. It enables users to safely store the cord and connector when charger is not in use.
Wifi and Bluetooth wireless user interfaces come standard with every charger, enabling remote  scheduling and notifications of charging functions.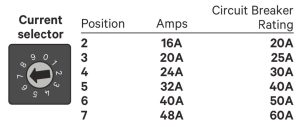 Choose From 16 Amps to 48 Amps Maximum Charging Current
Pick the charger setting that best matches the capacity available at your home, with settings from 16A up to 40A or 48A. Enjoy the flexibility to connect to lower-power circuits when maximum power isn't needed and to "amp-up" when you're ready for more.
The Pulsar  works with all plug-in vehicles with SAE-1772 Charging Plug.